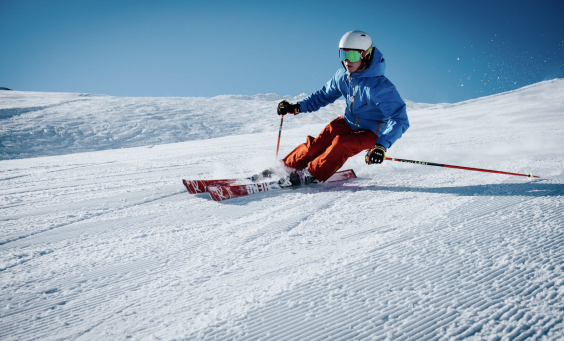 Are you looking forward to hitting the slopes this year? Or maybe you are getting back into it after suffering an injury in the past, making you somewhat anxious at the possibility of something happening again? Whatever the case may be, it is so important to be prepared so that you can best prevent unnecessary pain and injuries. The more prepared you are, the more confident you will be on the mountains too!
So how can you prepare?
Since skiing and snowboarding are physically demanding sports, you will want to focus on some specific exercises to help improve your core stability, balance, strength, endurance, and flexibility at least a month in advance. Your physio can put together a customized exercise program for you based on your individual needs that will be instrumental for injury prevention.
Ideally, you are already an active person year round who focuses on things like weight training and cycling in the off-season, so that you aren't starting from scratch. Cycling is great for cardio and weight training will help you build strong muscles. Like any activity, you'll have a much more enjoyable time if you are already in good shape.

As with any type of physical activity, it is always advantageous to warm up. It can be super exciting to just hop onto the chairlift as soon as you arrive at the mountain, but take the time for stretching and a light jog.
Stay hydrated! You may not want to drink too much because stopping off at the bathroom will take away from your ski time, but your body needs water to be able to recover after a long day on the mountain. This is especially important if you plan on skiing for multiple days.
Ensure that you have good quality boots that fit properly. The staff at a professional ski shop will be able to help you select boots that will keep you comfortable.
Ensure that your skis or snowboard are waxed and tuned for the current conditions.
Don't borrow equipment from friends or family. Rent instead so that you will be properly fitted, and so that your bindings will be properly adjusted.
Well-fitted, certified helmets, although not yet mandatory, will significantly reduce your risk of concussion and head injury.
Invest in a good jacket, toque, socks, goggles, ski pants, thermal layers, and gloves or mittens. It is also a great idea to purchase a bag of instant hand and foot warmers that can help keep you nice and toasty.
If it is your first time skiing or boarding, you will definitely want to take a lesson in advance of venturing off on your own. There is nothing worse than developing bad habits that you later have a hard time changing or that may lead to injury. Even experienced skiers can benefit from a refresher!
Take breaks. You will soon realize that skiing burns a lot of energy and as fun as it may be, it will also tire you out. Make sure that you also eat and drink while resting in the ski chalet. Chances are good that you will work up quite an appetite!
Ski at your level. Sure you may feel extra daring in short order, but it is not worth hopping on a black diamond run (the most difficult level) if you don't have enough experience. You need to build on your skills until you feel 100% confident that you are ready to graduate to the next level.
It is a good idea to ski with a friend or family member and keep your cell phone fully charged in case of emergency. Decide on a meeting place at the beginning of the day in case you lose touch with each other.
Respect the signs and stay on trail. It is often the people who ignore the danger signs and go off trail are the ones who get hurt.
It is really important to note, that should you happen to get hurt or be in pain for some unknown reason, do not continue to ski. You may end up making the injury much worse. Visit your doctor and physiotherapist so you can be properly tended to. The better you take care of yourself, the sooner you will be able to get back on the hill.
If you are located in Vancouver, please book an appointment today at Dunbar Physio for your pre-season exercise program planning or to address any issues you may currently have that could hinder you from a safe ski and snowboard season.